1-year U.S. Treasury bond closes at 5.49% on better-than-expected activity data
International
U.S. Treasury bond yields traded with increases across all maturities during yesterday's trading session, following better-than-expected activity data. Thus, the 1-year bond closed at 5.49%, the 3-year bond reached 4.89%, while the 10-year bond ended at 4.69%, remaining at 16-year highs.
In the United States, the manufacturing Purchasing Managers' Index (PMI) measured by the Markit agency stood at 49.8 points in September. This result reflects an improvement compared to the preliminary and projected figure of 48.9 points, and is the highest level in the last 5 months. It is worth noting that a performance above 50 points implies expansion, and a performance below 50 points implies contraction of activity.
The main stock indexes in the United States started the week with mixed performance, awaiting the release of the September employment data at the end of the week. Thus, the Nasdaq advanced +0.7%, the S&P 500 remained practically unchanged, while the Dow Jones declined -0.2%. So far this year, the indices have accumulated increases of +27.1%, +11.7% and +0.9%, respectively.
In the Eurozone, the manufacturing PMI for September was 43.4 points, in line with expectations but slightly lower than in August. Meanwhile, the unemployment rate remained at 6.4% in August for the third consecutive month. Thus, the EuroStoxx 50 fell -0.9% at the close of the day.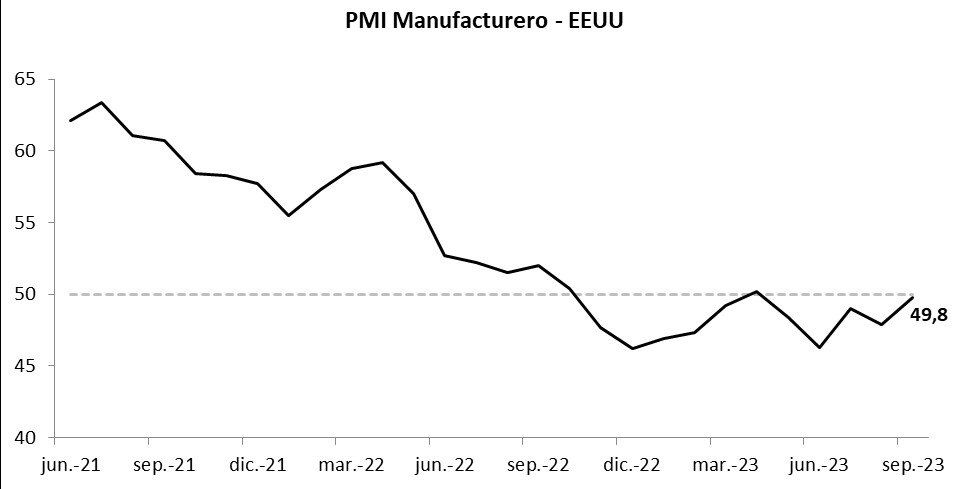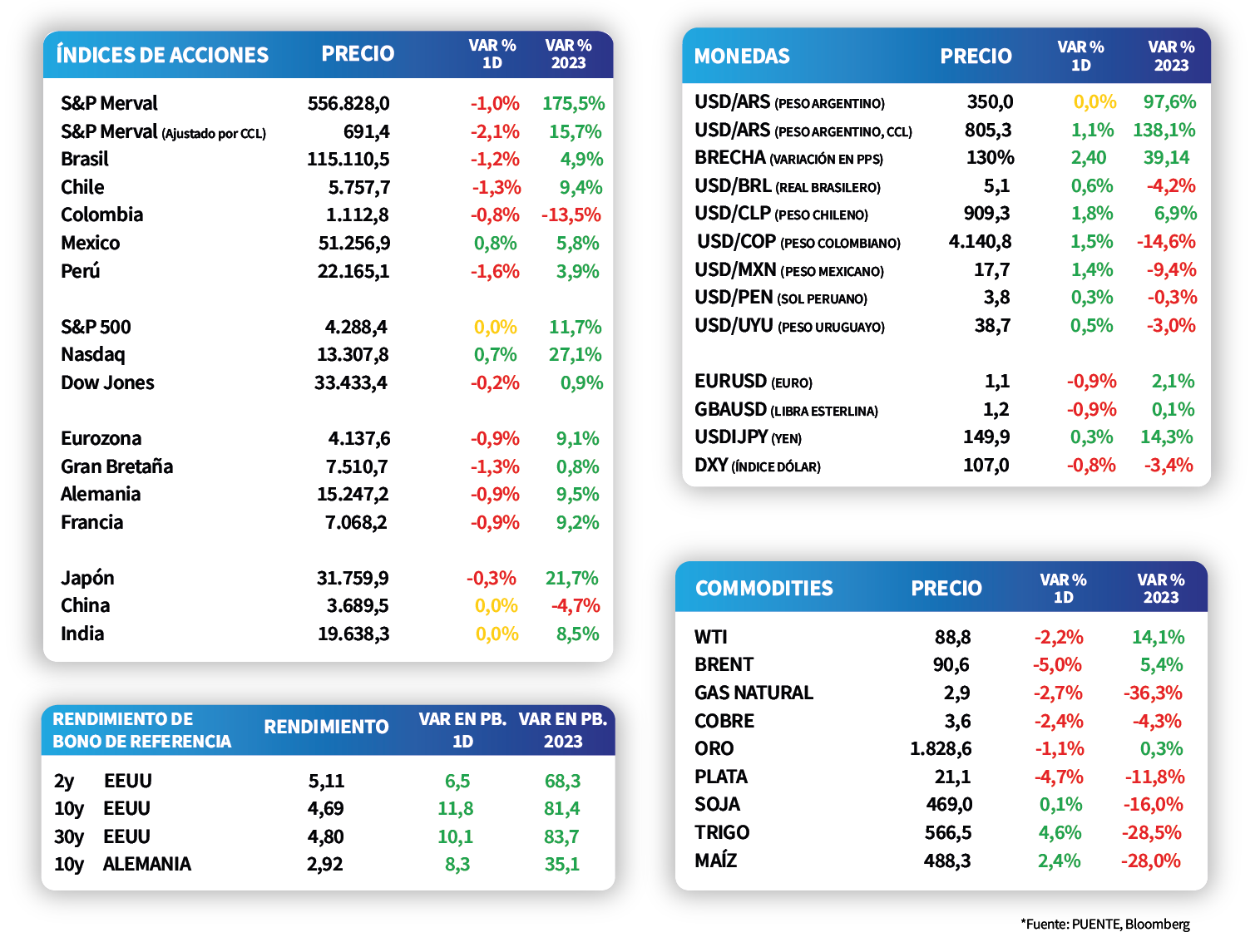 Latam
In Chile, the Monthly Index of Economic Activity presented a deceleration of -0.9%
Latin American stock markets opened the week with declines. In Peru, the stock market fell -1.6%, followed by Chile, which contracted -1.3%. The exception was the Mexican stock market, which rose +0.8% yesterday.
Yesterday, October 2, in Chile, the Monthly Index of Economic Activity was published, which registered a deceleration of -0.9% and was below market expectations (+0.1%).
Today, in Brazil, the Industrial Production for August will be released and is expected to be +1.0% YoY.
In Argentina, bonds continued to decline following the trend of global bonds after the widening of US Treasury yields and after the first presidential debate. Sovereign bonds fell on average -2%, where the largest declines were observed in AL29 and GD46, dropping -6% and -2.2%, respectively.